Study protocol

Open Access

Open Peer Review
This article has Open Peer Review reports available.
A randomised controlled trial of a cognitive behavioural intervention for women who have menopausal symptoms following breast cancer treatment (MENOS 1): Trial protocol
Received: 18 November 2010
Accepted: 31 January 2011
Published: 31 January 2011
Abstract
Background
This trial aims to evaluate the effectiveness of a group cognitive behavioural intervention to alleviate menopausal symptoms (hot flushes and night sweats) in women who have had breast cancer treatment. Hot flushes and night sweats are highly prevalent but challenging to treat in this population. Cognitive behaviour therapy has been found to reduce these symptoms in well women and results of an exploratory trial suggest that it might be effective for breast cancer patients. Two hypotheses are tested:
Compared to usual care, group cognitive behavioural therapy will:
1. Significantly reduce the problem rating and frequency of hot flushes and nights sweats after six weeks of treatment and at six months post-randomisation.
2. Improve mood and quality of life after six weeks of treatment and at six months post-randomisation.
Methods/Design
Ninety-six women who have completed their main treatment for breast cancer and who have been experiencing problematic hot flushes and night sweats for over two months are recruited into the trial from oncology and breast clinics in South East London. They are randomised to either six weekly group cognitive behavioural therapy (Group CBT) sessions or to usual care. Group CBT includes information and discussion about hot flushes and night sweats in the context of breast cancer, monitoring and modifying precipitants, relaxation and paced respiration, stress management, cognitive therapy for unhelpful thoughts and beliefs, managing sleep and night sweats and maintaining changes.
Prior to randomisation women attend a clinical interview, undergo 24-hour sternal skin conductance monitoring, and complete questionnaire measures of hot flushes and night sweats, mood, quality of life, hot flush beliefs and behaviours, optimism and somatic amplification. Post-treatment measures (sternal skin conductance and questionnaires) are collected six to eight weeks later and follow-up measures (questionnaires and a use of medical services measure) at six months post-randomisation.
Discussion
MENOS 1 is the first randomised controlled trial of cognitive behavioural therapy for hot flushes and night sweats that measures both self-reported and physiologically indexed symptoms. The results will inform future clinical practice by developing an evidence-based, non-medical treatment, which can be delivered by trained health professionals.
Keywords
Cognitive Behavioural Therapy
Usual Care
Night Sweat
Problem Rating
Dispositional Optimism
Background
Hot flushes and night sweats (HF/NS) affect 65-85% of breast cancer survivors, with 60% rating them as severe [1]. They are associated with sleep problems, reduced health-related quality of life [2–4] and are more chronic in this population [5]. Chemotherapy and endocrine treatments such as tamoxifen can induce or exacerbate menopausal symptoms and those taking hormone therapy (HT) are generally advised to stop treatment. HT is an effective treatment, but there is uncertainty associated with its safety. Results of prospective trials [6, 7] highlight the association between HT and breast cancer and cardiovascular risks. Therefore a clear need exists for safe and effective non-hormonal targeted therapies that are well tolerated [8].
The exact aetiology of HF/NS is unknown, but they appear to be associated with the rate of change of plasma oestrogen, which influences the thermoregulatory system via the hypothalamus [9]. Alterations in oestrogen levels and neurotransmitters (norepinephrine and serotonin) have been implicated in the pathogenesis of HF/NS [5]. Freedman [10] proposed that there is a narrowed thermoneutral zone (temperature range in which thermoregulation is not triggered) in women who have HF/NS resulting in flushes being triggered by small elevations in core body temperature, caused by changes in ambient temperature or triggers, such as anxiety or stimulants. There is some evidence that the thermoneutral zone is narrowed by elevated brain norepinephrine [10, 11], and that stressors increase incidence of hot flushes [12]. Anxiety [13] and cognitions (negative thoughts associated with embarrassment, social anxiety, feeling out of control and unable to cope) are associated with reports of more frequent and problematic HF/NS [14, 15], and lifestyle, mood and cognitive and behavioural reactions are likely to influence perception of symptoms [16]. Although the aetiology of hot flushes and night sweats is likely to be the same, their impacts on women are very different. Hot flushes during the day tend to be associated with problems of social anxiety, discomfort and managing day to day activities, whereas night sweats occurring during the night tend to be associated with sleep disruption and associated problems.
Evaluating treatment efficacy depends on valid and reliable measures of HF/NS. The most commonly used measures of HF/NS are women's own self-reports. These include diaries, in which women note the time when a hot flush occurs and usually a severity rating (e.g. mild, moderate or severe). Electronic event markers can also provide a convenient method of registering a perceived hot flush. Sternal skin conductance (SSC) is considered to be the most valid physiological index of HF/NS [17]. A hot flush is marked by a sudden increase in skin conductivity, due to a sweat response, which tails off as sweating decreases (a 'swishy tail'). This pattern is in contrast with a 'saw-tooth' fluctuation in sweating which occurs in typical thermoregulatory control. SSC does not, however, correlate well with subjective measures of severity or problem ratings, and hot flushes defined by SSC and self-reported hot flushes are not always concordant [18]. Reasons for discordance are not well understood, but use of both measures can increase understanding of the impacts of interventions [16]. For example, self-report but not physiological measures (SSC) have shown placebo effects [19], but physiological measures are less predictive of problem ratings and help seeking than self-reports. For these reasons SSC should be used together with self-report measures (frequency and the extent to which they are problematic) [20]. SSC has not yet been used to evaluate treatments in the UK. 24 hour SSC monitoring has been piloted and has been acceptable to women [21, 22].
Non-hormonal treatments for menopausal symptoms in breast cancer patients
Non-hormonal treatments for HF/NS tend to be preferred but the efficacy and acceptability of treatments limit their use. Following a systematic review of non-hormonal medicines for HF/NS, Nelson, Vesco, Haney and others [23] concluded that SSRIs or SNRIs, clonidine and gabapentin trials provide evidence for efficacy but that adverse effects might restrict use for some women. Carpenter, Storniolo, Johns et al [19] reported modest reductions (22%) in HF/NS with Venlafaxine (37.5 mgs) but most patients discontinued treatment at 12 months follow up. These conclusions support those of a position statement by the North American Menopause Society [24]. Furthermore, possible negative interactions between some SSRIs and the effects of tamoxifen may limit prescribing options for women who have had breast cancer [25].
Non-medical treatments are popular, including acupuncture, yoga, exercise, and cognitive behavioural therapy. Studies of acupuncture often report significant reductions in HF/NS following treatment, although few studies report between group effects when compared to sham, superficial or placebo acupuncture [26]. A recent meta-analysis [27] of 4 RCTs of acupuncture for HF/NS in women who have had breast cancer found one RCT that reported significantly fewer HF/NS following acupuncture compared to sham acupuncture [28]. In well women one study out of six reviewed [29] reported a reduction in severity following acupuncture compared to placebo [30]. Both studies involved a comparatively large number of acupuncture sessions, suggesting that it may be effective over and above placebo effects if delivered intensively. Furthermore it would also be worth investigating the reasons for these consistent placebo improvements, and whether they are enduring.
Regular exercise has been associated with fewer HF/NS in cross-sectional studies, but interventions to reduce symptoms using exercise have been less successful [31]. In a systematic review of seven studies, about half reported significant within-group improvements following exercise, but only two reported improvements in HF/NS compared to a no treatment control (one was not powered to find a significant difference [32]). Although there were no studies focusing on breast cancer patients, an RCT of exercise for breast cancer patients with treatment induced HF/NS is due to publish findings in 2011 [33]. Theoretically, yoga may be more effective than exercise; as well as being low intensity exercise, yoga is used as a relaxation technique, which may also reduce HF/NS [34]. A systematic review revealed a reduction in reported HF/NS in 4 out of 7 studies [35], however most RCTs did not find an effect. The exception was an RCT of an intensive yoga programme (60 minutes a day, 5 days a week for 8 weeks) [36]. The only study to measure frequency of physiological HF/NS as well as self-reported HF/NS found no reduction in sternal skin conductance or diary reported hot flushes and night sweats following yoga [37]. There is growing evidence that relaxation therapy and paced respiration can alleviate HF/NS in well women [38–41]. In two preliminary studies with breast cancer patients relaxation significantly reduced HF/NS after 12 sessions [42] but not after one session [43]. A treatment package including behavioural (relaxation and counselling) and pharmacological interventions for breast cancer patients has been evaluated in the US with positive results [44].
A CBT intervention for HF/NS, which includes relaxation and paced respiration, has been developed in the UK by Hunter and colleagues [45–47]. This four-session CBT intervention was shown to be effective in an exploratory patient preference trial of well women (around 40% reduction of HF frequency and problem rating) [45]; a finding replicated by Keefer and Blanchard [48] using 8 sessions of CBT. Women who have had breast cancer tend to experience more frequent and problematic menopausal symptoms than well women going through the natural menopause [3]. In a study of 113 women, who had completed active treatment for breast cancer within the past 5 years, 80% reported HF and 72% NS, a significantly higher prevalence than found in well postmenopausal women [49]. Treatment preferences were explored and preferences were expressed for CBT (63%), complementary therapies (46%), antidepressant treatment (25%) and HT (26%). 53% expressed interest in group and/or individual CBT sessions [3].
Based on earlier work, an exploratory trial of a six-session Group CBT intervention was evaluated in a pre-post study of 24 breast cancer patients [47]. The weekly problem rating reduced on average from 5.9 (SD = 2.1) to 3.4 (SD = 1.8) at post-treatment and 2.8 (SD = 1.8) at follow-up (10 point scale); frequency of HF/NS per week reduced from 68.2 (SD = 28.7) to 46.7 (SD = 30.2) at post-treatment and to 36.9 (SD = 32.5) at 3 months follow up; a significant reduction in HF problem rating and frequency. Feedback from the women, elicited during and at the end of the groups, was very positive [47]. Relaxation/breathing and cognitive strategies used at the onset of HF/NS, as well as group support to make behavioural changes, were seen as most useful. The majority (88%) completed the 3 month follow-up assessment, suggesting good adherence to the study. These results suggest that CBT may be effective in reducing HF/NS and their impacts in breast cancer patients. However, a randomised controlled trial is needed. Furthermore, most studies of the efficacy of CBT used self-reported improvements in HF/NS, thus investigation into the impacts on physiological symptoms is warranted.
Current study
This present study aims to evaluate the effectiveness of Group CBT to alleviate HF/NS in women who have had treatment for breast cancer, comparing Group CBT and usual care in a randomised controlled trial, with both physiological and self-reported measures of HF/NS and a 6-month post-randomisation follow-up. We hypothesize that Group CBT will be more effective than usual care in reducing HF/NS problem rating and frequency. Secondary analyses will examine the effects of Group CBT on hypothesised mediating variables, including mood, quality of life, beliefs and behaviours, optimism and somatisation. If effective, the treatment can be promoted by publication of the treatment manual and by training and supervising health professionals in the application of the treatment.
The trial tests four main hypotheses:
1.

There will be a significant reduction in problem rating of HF/NS following Group CBT compared to usual care.

2.

There will be a significant reduction in frequency of self-reported and SSC-defined HF/NS following Group CBT compared to usual care.

3.

Changes in problem rating and frequency of HF/NS following Group CBT will be maintained at six months post-randomisation.

4.

There will be significant improvements in mood, beliefs and behaviours about HF/NS and quality of life following Group CBT compared to usual care.
Methods/Design
The study design is shown in Figure
1
. It is a randomised controlled trial of Group CBT for HF/NS in women who have completed treatment for breast cancer. Participants are block-randomised to receive either usual care (access to clinic support) or to usual care plus six weekly sessions of Group CBT (herein referred to as Group CBT). The Group CBT was developed from previous work and an exploratory trial [
45
,
50
] and is specified in a treatment manual. Group CBT is delivered by a clinical psychologist in this trial, but the treatment is designed to be facilitated by appropriately trained and supervised health professionals. Post-treatment assessment is conducted 7-9 weeks post-randomisation (0-2 weeks after 6 weeks of treatment or usual care). Follow up assessment is conducted 6 months post-randomisation. The primary outcome is problem rating of HF/NS at post-treatment assessment. The trial is conducted in compliance with the Helsinki Declaration [
51
] and is badged with the National Cancer Research Network (UKCRN; Study ID: 4975). NHS REC approval has been granted (South East London 2 REC, ref: 08/H0802/106) and local ethics and R&D approval has been obtained for recruitment of breast cancer patients from all hospitals in the South East London Cancer Research Network (SELCRN). The trial is registered with Current Controlled Trials (ISRCTN13771934). A trial steering committee (TSC) has agreed the research protocol and monitors implementation. Data and participant welfare are monitored by a data management committee (DMC).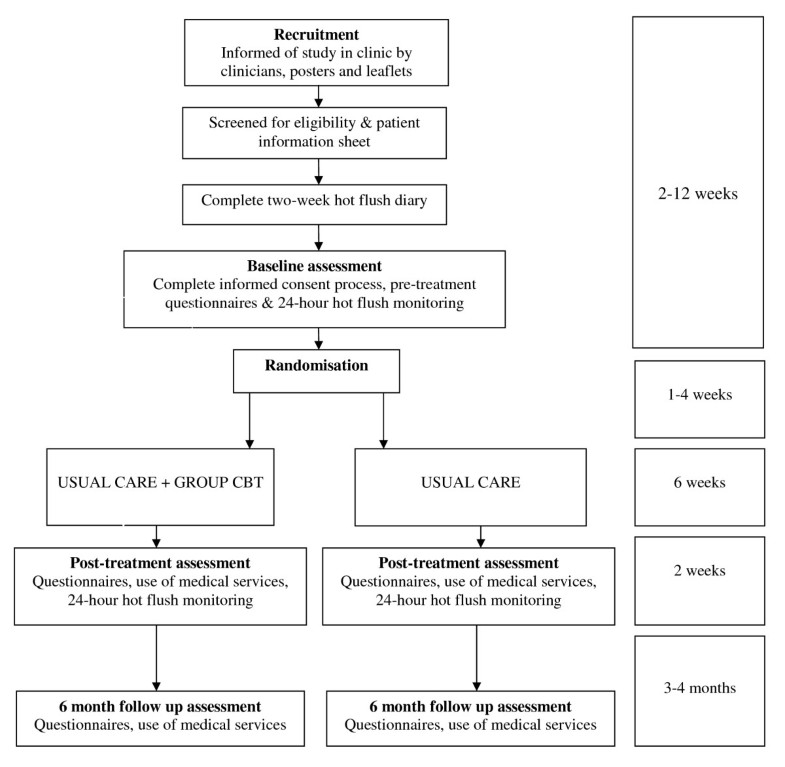 Discussion
This study is a randomised controlled trial of cognitive behavioural therapy to treat hot flushes and/or night sweats experienced by women who have completed treatment for breast cancer. This non-medical treatment aims to alleviate HF/NS symptoms in women who have limited medical treatment options due to contraindications. It is a robustly designed trial, comparing six sessions of Group CBT to usual care using both self-reported and physiological outcome measures. The primary outcome is change in HF/NS problem rating at post-treatment: an average reduction in problem rating of 2 points on the HFRS problem rating subscale is needed for treatment efficacy to be considered clinically significant. The study also tests the hypotheses that Group CBT will reduce frequency of HF/NS, improve mood, sleep, general wellbeing, and beliefs about HF/NS. It is further hypothesised that these improvements will be maintained at six months post-randomisation. If this non-medical treatment is found to be successful it could be delivered in primary or secondary care settings by appropriately trained and supervised health professionals.
Methodological considerations
The design has several strengths. The treatment has been extensively developed and piloted for feasibility, acceptability and preliminary outcomes. Preliminary results found an average 2.5 point reduction in problem rating (49% reduction) as well as a significant reduction in self-reported frequency, and significant improvements in sleep quality and quality of life were also reported [47]. A treatment manual specifies the detail for each session so that it is replicable, and checks are in place to ensure adherence to protocol. Measures of treatment efficacy are robust: as well as questionnaire-based estimations of recent symptoms, the trial includes prospective monitoring of symptoms using self-report and physiological measures. Very few trials of treatments for HF/NS include both types of prospective monitoring, and no trials of CBT for HF/NS have done so. The study sample is drawn from a socially and culturally diverse area of the UK; the uptake and adherence to the treatment by women from different backgrounds will be reported.
There are some limitations that should be considered. Recruitment procedures are designed to reach all of the symptomatic breast cancer patients who attend clinics in the South East London Network (SELCRN) hospitals. Clinic and research staff approach patients directly and posters and leaflets are placed in waiting rooms so that patients can opt in themselves. Nonetheless, the sample might not be representative of symptomatic breast cancer patients in general and we cannot know how many people were made aware of the trial through these recruitment procedures.
The treatment is compared to a usual care group to see whether it improves on current practice, but usual care control groups have some drawbacks. Usual care may vary between centres, although typically treatment is minimal. Those receiving usual care may be more likely to seek complimentary therapies if they are having no other treatment. Complementary therapy use and clinic treatments are monitored in the trial and may have to be controlled for in analysis. If usual care is minimal then it will be similar to a no-treatment control group, and treatment effects might be due to the extra attention rather than the treatment per se (i.e. any intervention is better than nothing). Transitory changes and biased reporting should be apparent by comparing self-reported HF/NS with physiological measures and post-treatment with follow up data. Early in the treatment development phase it makes sense to compare with current practice, especially as some improvement in usual care would be predicted if only because symptoms do get better in time. Should treatment effects be robust, further research into the active treatment components can be tested using attention control groups.
Conclusions
Breast cancer survivors who are experiencing problematic HF/NS have few treatment options. Cognitive behavioural therapy has resulted in some promising reductions in HF/NS problem rating and frequency in these women. This study is a randomised controlled trial of Group CBT for HF/NS which also includes physiological outcome measures. The trial tests for treatment effects on HF/NS, sleep, mood, beliefs about HF/NS and general wellbeing. This study represents an important step in the development of a cost-effective non-medical treatment for HF/NS designed to be implemented on a wider scale by trained and supervised health professions.
Abbreviations
CBT:

Cognitive behavioural therapy
HF/NS:

hot flushes and/or night sweats
HFRS:

Hot flush rating scale
HFBS:

Hot flush beliefs scale
SF-36:

General Health Survey Short form 36
WHQ:

Women's Health Questionnaire
LOT R:

Revised Life Orientation Test
TSC:

Trial Steering Committee
DMC:

Data Management Committee
NHS:

National Health Service
UKCRN:

United Kingdom Cancer Research Network
SELCRN:

South East London Cancer Research Network
RCT:

Randomised controlled trial
SSC:

Sternal skin conductance
HT:

Hormone therapy (previously termed hormone replacement therapy or HRT).
Declarations
Acknowledgements
Beth Grunfeld, Trudie Chalder, Sharon Lowe-Lauri, Hisham Hamed, Mark Harries, Jo Marsden, Ruth Pickering, Alex Gentry-Maharaj, Michael Craig, and Caroline Burgess contributed to development of the study, and participated in trial steering and data management committees. We would like to thank the team at the South East London Cancer Research Network, Gian Gargaro at the Guy's Cancer Support Service, and the clinical staff at Guy's Hospital, University Hospital Lewisham, King's College Hospital, Princess Royal University Hospital at Bromley, Queen Mary's Sidcup and Queen Elizabeth Woolwich, for their help with participant recruitment. Myra Hunter is supported by the NIHR Biomedical Research Centre for Mental Health, South London & Maudsley NHS Foundation Trust and Institute of Psychiatry, King's College London.
Sponsors
This study is supported by a grant from Cancer Research UK (grant ref: C8303/A6130).
Authors' Affiliations
(1)
Department of Psychology (at Guy's), Institute of Psychiatry, King's College London, 5th Floor Bermondsey Wing, Guy's Campus, London, UK
(2)
Department of Biostatistics, Institute of Psychiatry, Kings College London, London, UK
Copyright
© Mann et al; licensee BioMed Central Ltd. 2011
This article is published under license to BioMed Central Ltd. This is an Open Access article distributed under the terms of the Creative Commons Attribution License (http://creativecommons.org/licenses/by/2.0), which permits unrestricted use, distribution, and reproduction in any medium, provided the original work is properly cited.