Research article

Open Access

Open Peer Review
This article has Open Peer Review reports available.
The use of genetic programming in the analysis of quantitative gene expression profiles for identification of nodal status in bladder cancer
Received: 09 February 2006
Accepted: 16 June 2006
Published: 16 June 2006
Abstract
Background
Previous studies on bladder cancer have shown nodal involvement to be an independent indicator of prognosis and survival. This study aimed at developing an objective method for detection of nodal metastasis from molecular profiles of primary urothelial carcinoma tissues.
Methods
The study included primary bladder tumor tissues from 60 patients across different stages and 5 control tissues of normal urothelium. The entire cohort was divided into training and validation sets comprised of node positive and node negative subjects. Quantitative expression profiling was performed for a panel of 70 genes using standardized competitive RT-PCR and the expression values of the training set samples were run through an iterative machine learning process called genetic programming that employed an N-fold cross validation technique to generate classifier rules of limited complexity. These were then used in a voting algorithm to classify the validation set samples into those associated with or without nodal metastasis.
Results
The generated classifier rules using 70 genes demonstrated 81% accuracy on the validation set when compared to the pathological nodal status. The rules showed a strong predilection for ICAM1, MAP2K6 and KDR resulting in gene expression motifs that cumulatively suggested a pattern ICAM1>MAP2K6>KDR for node positive cases. Additionally, the motifs showed CDK8 to be lower relative to ICAM1, and ANXA5 to be relatively high by itself in node positive tumors. Rules generated using only ICAM1, MAP2K6 and KDR were comparably robust, with a single representative rule producing an accuracy of 90% when used by itself on the validation set, suggesting a crucial role for these genes in nodal metastasis.
Conclusion
Our study demonstrates the use of standardized quantitative gene expression values from primary bladder tumor tissues as inputs in a genetic programming system to generate classifier rules for determining the nodal status. Our method also suggests the involvement of ICAM1, MAP2K6, KDR, CDK8 and ANXA5 in unique mathematical combinations in the progression towards nodal positivity. Further studies are needed to identify more class-specific signatures and confirm the role of these genes in the evolution of nodal metastasis in bladder cancer.
Keywords
Bladder CancerGenetic ProgrammingUrothelial CarcinomaGenetic Programming SystemVote Algorithm
Background
Cancer of the urinary bladder is the seventh most common cancer worldwide (3.2% of all cancers), with an estimated annual incidence of 330,000 new cases and to which 179,000 deaths are attributed each year [1, 2]. In the USA, where more than 63,000 new cases of bladder cancer were expected in 2005, urothelial carcinoma (UC) is the most common histology (90%), followed by squamous cell carcinoma (6–8%), adenocarcinoma (2%), and a variety of other rare tumor types [3]. The standard TNM clinical stage classification system for bladder cancer recommended by the American Joint Committee on Cancer takes into account the depth of invasion of the bladder wall by the primary tumor (T), the presence and size of metastatic regional lymph nodes (N), and the presence or absence of distant metastases (M) [4]. Nodal involvement is considered to be an independent risk factor for recurrence and survival after cystectomy for organ-confined bladder cancer [5]. Consequently, extensive bilateral pelvic lymphadenectomy is now considered an integral part of the surgery, having been shown to significantly improve the prognosis of patients with muscularis propria-invasive bladder cancer [6, 7]. Non-muscularis propria-invasive tumors (TNM Stages 0a, 0is, and I), confined to the bladder mucosa or subepithelial connective tissue (pTa, pTis, and pT1) without regional (N0) or distant (M0) metastases, are generally treated by transurethral resection of the tumor with fulguration, intravesical chemotherapy, and radiotherapy. Although cures are possible, up to 80% of these presumed "localized" tumors will eventually recur following initial resection, with up to 25% progressing to muscularis propria-invasive disease [8]. The confirmation of the existing true nodal status in a patient with bladder cancer thus assumes primary importance, along with the need to determine if the tumor has the molecular potential to metastasize to the lymph nodes later, provided undiagnosed micrometastasis has not occurred already.
Molecular changes in bladder cancer have been shown to precede morphologic changes that can be identified visually [9]. Further, some tumors have specific molecular patterns that predispose them to be more morphologically aggressive, with a greater propensity to metastasize and recur, regardless of their clinical stage at diagnosis [10]. Hence, morphologic changes need to be complemented with molecular correlates for an accurate prediction of bladder tumor progression.
The goal of this study was to create an objective and accurate tool for the identification of nodal status from primary tumor tissue. Since bladder cancer has a multi-factorial etiology with a complex pathogenesis encompassing various pathways that involve more than a simple two directional (up/down) regulation of a few genes, we felt that it was necessary to investigate a comprehensive panel of genes to define this complex disease. Utilizing bladder tissue biopsies from 60 primary UC subjects and five normal controls, our study involved the analysis of a set of 70 candidate markers involved in crucial pathways that have been shown to be deregulated in cancer, including those of cell cycle regulation, apoptosis, angiogenesis, invasion and metastasis, and anti-oxidation [Figure
1
,
Additional file 1
] [
11
,
12
]. Since scaling the gene expression levels to represent fold changes relative to a base value could have biased the significance of these gene changes, there was a concern that representing the data in this way might obscure any correlation with the altered gene's function. We, therefore, adopted a standardized competitive reverse transcriptase – polymerase chain reaction (StaRT-PCR™) approach to quantitatively measure gene expression values in relation to a million molecules of a housekeeping gene like β-actin [
11
]. This gave us an expression profile and molecular signature for each tissue sample with the lowest inter-sample and intra-sample variability.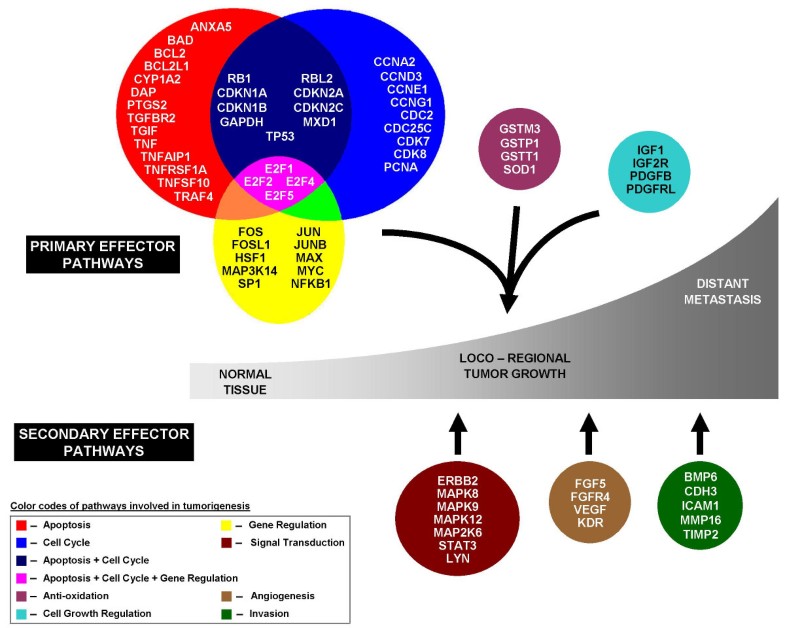 Using a machine learning technique called genetic programming (GP) [13], the gene expression values were then used to classify the primary tumor tissue samples into those associated with nodal involvement (node positive, NP) and those from subjects known to have no nodal involvement (node negative, NN). GP uses the available data to produce a set of classifiers ("rules") that are optimized in an iterative fashion through successive retention of the better performing rules. One of the key characteristics of GP is its ability to automatically select variables and operators and assemble them into appropriate structures that form predictive functions for classifying the samples, often discovering unusual and unexpected combinations of input variables. In this study, the samples were divided into training and validation sets, and GP was used in a supervised learning mode on the training set to develop a discriminant classifier solution which then used the validation set to test the generality of the solution produced. We, herein, report that by employing GP to analyze quantitative gene expression profiles of primary tumor tissue, one can accurately determine the nodal status of bladder cancer in the same patient, thereby enhancing the ability to correctly assess the extent of disease.
Discussion
Recent studies suggest that the significant relapse rates for bladder tumors that do or do not invade the muscularis propria may be related to the presence of micrometastases in pelvic lymph nodes that are undetectable using conventional computed tomography, magnetic resonance imaging, positron emission tomography and routine histopathologic examination [16, 17]. Hence, consideration for early cystectomy with pelvic lymphadenectomy is now being advocated even for "localized" bladder cancers that have not invaded the muscularis propria [18]. A more accurate definition of the nodal status upon initial diagnosis and during follow-up of bladder cancer will go a long way in minimizing the significant understaging and overstaging that appears to currently exist and thereby better equipping the clinician with the tools needed to determine the optimal treatment and follow-up strategies for a particular patient.
Over the past decade, efforts have begun to identify molecular markers that can predict the propensity of bladder tumors to metastasize to the lymph nodes. While single molecular markers with significant correlations have been identified, the predictive and prognostic potential offered by them is still not optimal. The current situation warrants the need to generate a panel of markers representing those crucial pathways deregulated in bladder cancer which can assist in the prediction of nodal metastasis. The present study evaluates a panel of 70 transcripts that are known to be altered in cancers. The expression levels of these genes were determined using StaRT-PCR™ and the data was subjected to GP analysis, which identifies optimal rules using those genes that it selects as the most significant determinants of the target clinical outcome (in this case, nodal metastasis). StaRT-PCR™ has the ability to measure the stoichiometric relationship between the abundance of multiple transcripts within the same sample [11] and can allow for comparison of data generated independently in different experiments and different laboratories [19].
Conclusion
Our study uses UC as a clinical model in devising a strategy to combine the medium-throughput quantitative StaRT-PCR™ technique with supervised GP methods to determine the nodal status of clinically diagnosed tumors based on their molecular profiles. We demonstrate that StaRT-PCR™ can provide a relatively standardized output of quantitative gene expression relative to a housekeeping gene like β-actin and can be used as an input in a GP system to generate a classifier for nodal status with a reasonable degree of accuracy. Moreover, the output has also suggested a key role for specific genes involved in the target process that may lead to future studies to clarify their precise biological role and identify new targets for therapeutic intervention. Of particular interest are the gene expression motifs which have identified novel relationships between specific genes and pathways. The key genes identified by this technique from our data set also suggest that class-specific signatures using a small number of genes can characterize tumors as NP or NN, and more importantly, provide an early indication of their progression towards NP status based on molecular traits.
Our group is currently addressing several open questions in GP including an approach for multi-class problems, automated methods for selecting key transcripts and automated identification of significant motifs. Further studies will be aimed at correlating molecular markers and motifs with clinical outcome in an effort to employ markers as reliable, reproducible and objective indicators of prognosis. The enhanced value of incorporating molecular markers into the existing clinical staging of bladder cancer has already been proposed as a prudent alternative [69]. GP will then be ultimately useful in the identification of new avenues of molecular investigations, critical components and signatures of prognosis, and therapeutically feasible targets.
Abbreviations
UC:

urothelial carcinoma
StaRT-PCR™:

standardized competitive reverse transcriptase – polymerase chain reaction
GP:

genetic programming
NP:

node positive
NN:

node negative
CT:

competitive template
AUC:

area under curve
ROC:

receiver operating characteristic
KDR:

kinase insert domain receptor
MAP2K6:

mitogen-activated protein kinase kinase 6
ICAM1:

intercellular adhesion molecule 1
CDK8:

cyclin-dependent kinase 8
ANXA5 :

annexin A5 (gene)
LOOCV:

leave-one-out cross validation
VEGF:

vascular endothelial growth factor
CycC:

cyclin C
MED/SRB:

mediator/suppressor of RNA polymerase B
TRAP/SMCC:

thyroid hormone-associated protein/SRB/MED cofactor complexes
NAT:

negative regulator of activated transcription
SVM:

support vector machines
KNN:

K-Nearest Neighbors
CART:

classification and regression trees
Declarations
Acknowledgements
The authors would like to thank Frederic Waldman, MD, PhD, for providing the RNA samples from 10 subjects who underwent treatment for pTa and pT1 bladder cancer at the University of California, San Francisco, USA. The molecular studies of bladder cancer progression were funded by National Institutes of Health Grants CA-65726, CA-70903 and CA-86871.
Authors' Affiliations
(1)
Department of Pathology, University of Southern California Keck School of Medicine, Los Angeles, USA
(2)
Genetics Squared Inc., Ann Arbor, USA
(3)
Department of Internal Medicine, Gundersen Lutheran Medical Center, La Crosse, USA
(4)
Dipartimento Emergenza e Trapianti d'Organo, Sezione di Urologia, Università di Bari, Piazza G., Bari, Italy
Copyright
© Mitra et al; licensee BioMed Central Ltd. 2006
This article is published under license to BioMed Central Ltd. This is an Open Access article distributed under the terms of the Creative Commons Attribution License (http://creativecommons.org/licenses/by/2.0), which permits unrestricted use, distribution, and reproduction in any medium, provided the original work is properly cited.