Research article

Open Access

Open Peer Review
This article has Open Peer Review reports available.
Sensitive HPV detection in oropharyngeal cancers
Received: 1 July 2009
Accepted: 15 December 2009
Published: 15 December 2009
Abstract
Background
Human papillomaviruses (HPV) are the aetiological agents of certain benign and malignant tumours of skin and mucosae; the most important of which is cervical cancer. Also, the incidence of ano-genital warts, HPV-anal cancer and oropharyngeal cancers are rising. To help ascertain a useful PCR detection protocol for oropharyngeal cancers, we directly compared three commonly used primer sets in detection of HPV from different clinical samples.
Methods
We compared PGMY09/11, MY09/11 and GP5+/6+ primers sets in PCRs of 34 clinically diagnosed samples of genital warts, cervical brushings (with associated histological diagnosis) and vulval biopsies. All negative samples were subsequently tested using the previously reported PGMY/GP PCR method and amplicons directly sequenced for confirmation and typing. An optimised PCR protocol was then compared to a line blot assay for detection of HPV in 15 oropharyngeal cancer samples.
Results
PGMY09/11 primers detected HPV presence in more cervical brushing (100%) and genital wart (92.9%) samples compared to MY09/11 (90% and 64.3%) and GP5+/6+ (80% and 64.3%) primer sets, respectively. From vulval biopsies, HPV detection rates were: MY09/11 (63.6%), GP5+/6+ (54.5%) and PGMY09/11 (54.5%). PGMY/GP nested PCR demonstrated that HPV was present, and direct sequencing confirmed genotypes. This nested PCR protocol showed detection of HPV in 10/15 (66.7%) of oropharyngeal cancer samples.
Conclusions
PGMY09/11 primers are the preferred primer set among these three for primary PCR screening with different clinical samples. MY09/11 and GP5+/6+ may be used (particularly for cervical samples) but demonstrate lower detection rates. A nested PCR approach (i.e. a PGMY-GP system) may be required to confirm negativity or to detect low levels of HPV, undetectable using current primary PCR methods, as demonstrated using oropharyngeal cancer samples.
Keywords
Cervical Cancer
Genital Wart
Oropharyngeal Cancer
Cervical Sample
Line Blot Assay
Background
Strong epidemiological and molecular evidence has demonstrated human papillomavirus (HPV) to be the aetiological agent of both benign (warts, papillomas) and malignant tumours (subsets of ano-genital and oropharyngeal carcinomas) [1]. It has been estimated that HPV accounts for over 5% of total annual worldwide cancers [2]. The persistence of high-oncogenic risk subtypes has been demonstrated to be a necessary but not sufficient cause of cervical cancer [3]; the principal cancer of women in the developing world and second commonest female cancer worldwide [4, 5] (~510,000 cases with 288,000 deaths annually) [6].
More recently, however, strong evidence linking HPV to the development of approximately 20-50% (depending on the anatomical site) [7, 8] of head and neck cancers has been accumulating [9–11]. This is an issue of great global importance as head and neck cancer is the 5th most common cancer in the world [12, 13]. Mortality has not improved substantially over the last few decades [14], due to late diagnosis (75% of cases) and/or recurrent primary malignancies, and remains at 40-50% at 5 years [15, 16].
HPV subtypes are frequently classified as high-risk (HR-HPV) or low-risk (LR-HPV) for the development of cervical cancer [5, 17]. The recent development and introduction of prophylactic HPV vaccines for cervical cancer has now provided fresh impetus to the detection of HPV infection and associated disease in the community, as government initiatives to track the efficacy of vaccination programmes commence. There is a strengthening case for the general introduction of the vaccines into the community for prevention of HPV-associated non-cervical cancers [18].
Currently, the most common tests used to detect genital HPV in cervical samples are the hybridization assay Hybrid Capture II (HCII, Digene HPV test, QIAGEN Ltd, UK), and PCR systems with the degenerate primer sets MY09/11 and GP5+/6+ [19–22]. These target the conserved HPV L1 region and detect a broad range of subtypes, subsequent sequencing allowing specific subtype identification. However, in multiple HPV infections, sequencing may miss less prevalent subtypes [23]. The advent of the PGMY09/11 primer set allowed detection of increased sensitivity and a broader range of HPV types, especially in multiply infected cervico-lavage samples [24]. Furthermore, nested PCR with PGMY/GP+ primer sets was tested in cervical samples and, compared to MY/GP+, found to provide a wider range of detectability, greater sensitivity and performed better in characterisation of multiple infections [25]. Large meta-analyses have failed to identify an optimal PCR system for HPV detection on oropharyngeal cancers [7, 8].
In this study, we sought to ascertain an efficient protocol for HPV detection in different types of clinical samples. We evaluated HPV detection in DNA from three common types of genital clinical samples; directly comparing genital warts, CIN (cervical intra-epithelial neoplasia) brushings and VIN (vulval intra-epithelial neoplasia) lesions using the MY09/11, GP5+/6+ and PGMY09/11 primer sets in primary PCR and with subsequent comparison with a nested PCR approach (PGMY-GP) [25]. We then compared detection of HPV from oropharyngeal cancers with a commonly used and commercially available line blot assay (Linear Array™, Roche Diagnostics Ltd, UK) which discerns 37 different HPV genotypes. The significance of our findings on sensitive PCR detection of HPV from this range of clinical samples, and in particular, oropharyngeal cancers, is discussed.
Results
Head to head PCR amplification results on warts, cervical brushings and vulval specimens
MY and GP primers detected HPV in 9/13 wart samples (69.2%), whilst PGMY primers detected HPV in all warts (Table
2
). For the cervical brush samples, MY primers detected HPV in 9/10 samples (90.0%), whilst GP primers detected HPV in 8/10 samples (80.0%). Again, PGMY primers detected HPV in all CIN samples. All three primer sets had the lowest detection rates for vulval samples; HPV presence was determined in 7/11 (63.6%), 6/11 (54.5%) and 6/11 (54.5%) VINs for MY, GP and PGMY primers sets, respectively. We therefore performed a nested PCR with the PGMY amplicons using the GP5+/GP6+ primers, on all samples demonstrating a negative or inconclusive PGMY result. Statistical analysis indicated a moderate agreement when comparing the three PCR methods with each other in all samples; MY and GP κ = 0.436 (agreement 76.5%), MY and PGMY κ = 0.472 (agreement 82.4%), GP and PGMY κ = 0.530 (agreement 82.4%). The overall agreement between the three methods for all samples was 70.6% (24/34).
Table 2
PCR results with 3 primer sets on different clinical samples.
| Patient | Sample | MY | GP5+/GP6+ | PGMY |
| --- | --- | --- | --- | --- |
| 1 | W1 | - | + | + |
| 2 | W2 | + | - | + |
| 3 | W3 | + | - | + |
| 4 | W4 | + | + | + |
| 5 | W5 | + | + | + |
| 6 | W6 | - | + | + |
| 7 | W7 | + | + | + |
| 8 | W8 | - | + | + |
| 9 | W9 | + | - | + |
| 10 | W10 | - | - | + |
| 11 | W11 | + | + | + |
| 12 | W12 | + | + | + |
| 13 | W13 | + | + | + |
| 14 | C1 | + | + | + |
| 15 | C2 | + | + | + |
| 16 | C3 | + | + | + |
| 17 | C4 | + | - | + |
| 18 | C5 | - | - | + |
| 19 | C6 | + | + | + |
| 20 | C7 | + | + | + |
| 21 | C8 | + | + | + |
| 22 | C9 | + | + | + |
| 23 | C10 | + | + | + |
| 24 | V1 | + | + | + |
| 25 | V2pre | + | + | + |
| | V2post | - | - | - |
| 26 | V3pre | + | + | + |
| | V3on | + | + | + |
| | V3post | + | + | + |
| 27 | V4on | + | - | - |
| | V4post | - | - | - |
| 28 | V5pre | + | + | + |
| 29 | V6on | - | - | - |
| | V6post | - | - | - |
Nested PGMY/GP PCR detected HPV in all but one sample (sample V2
post
), a biopsy obtained after Imiquimod treatment for VIN 2 disease. We sequenced the nested amplicons to confirm true HPV genotype amplification, and compared these results with those obtained by HPV Linear Array (Roche Diagnostics Ltd, UK) (Table
3
). The results were consistent, but sequencing revealed a subtype not detected by the Linear Array from sample C5, namely HPV87. The Linear Array also detected an additional subtype compared to direct sequencing in two samples, HPV52m in C4 and HPV54 in V4
post
. Linear array of sample V2
post
revealed HPV subtypes 45 and 54, which remained undetected by nested PCR. Sample V4
on
was the only sample where a typing discrepancy was evident.
Table 3
Nested PCR with the PGMY-GP system on previously negative or inconclusive results after primary PCR screen.
| Sample | PGMY-GP nested PCR | HPV sequenced | Linear Array |
| --- | --- | --- | --- |
| C4 | + | 58 | 52m, 58 |
| C5 | + | 87 | - |
| V2post | - | ND | 45, 54 |
| V4on | + | 16 | 54 |
| V4post | + | 16 | 16, 54 |
| V6on | + | 81 | 81 |
| V6post | + | 16 | 16 |
Direct comparison of primary PGMY screening, Linear Array™ and nested PGMY-GP with sequencing on oropharyngeal cancers
PGMY PCR screening of oropharyngeal cancer specimens showed that no samples were initially positive, although 3 samples proved positive when tested with Linear Array™. Furthermore, 10 specimens proved positive for HPV when tested with the nested PCR system (PGMY-GP), as confirmed by direct sequencing of the amplified DNA (Table
4
).
Table 4
HPV detection and typing of 15 HNSCC and 3 RRP patients.
HPV detection method

Patient

Age

Diagnosis

PGMY 09/11

Linear Array

GP5+/GP6+ nest

1

52

SCC

-

-

HPV 6

2

46

SCC

-

-

HPV 6

3

49

SCC

-

-

HPV 16, mixed

4

58

RRP

-

-

-

5

68

SCC

-

HPV 16

HPV 16

6

31

RRP

HPV 11

HPV 11

HPV 11

7

61

SCC

-

-

-

8

68

SCC

-

-

-

9

54

SCC

-

HPV 16

HPV 6

10

64

SCC

-

-

HPV 6

11

72

SCC

-

-

HPV 16

12

73

SCC

-

HPV 11

HPV 6

13

87

RRP

-

-

-

14

69

SCC

-

-

-

15

74

SCC

-

-

-

16

50

SCC

-

-

HPV 40

17

78

SCC

-

-

mixed types

18

74

SCC

-

-

-

HPV +ve HNSCC detection

0/15

3/15

10/15
Discussion
There is a need for better and more time-, labour- and cost-efficient detection of HPV from clinical samples. For many years, the focus has been on detection of HPV from cervical samples, and the PCR systems most frequently used worldwide have used the degenerate/consensus primers MY09/11 and GP5+/6+ [19–22]. More recently, the non-degenerate PGMY09/11 primers have been developed, and shown to detect a broader range of subtypes from cervical samples with better sensitivity [24].
Earlier epidemiological studies predominantly used the MY and GP primer sets to detect HPV infection in cervical cancers, but it was only with increased sensitivity assays such as nested PCRs that cervical cancers worldwide were found to be 99.7% HPV positive [3]. Munoz et al. used both sets of degenerate primers in a multi-centre case-control study detailing the risks of cervical cancer associated with different HPV subtypes and found a HPV detection rate of 90.7% [5]. We tested three primer sets on 34 blinded samples from 30 patients, including samples from warts, cervical brushings and vulval biopsies to give a range of clinical tissue samples. Genital warts and cervical brushings from CIN lesions are essentially 100% positive for HPV ano-genital subtypes and were used as positive controls. We then directly compared PGMY primary screening, nested PCR (PGMY-GP), and the Linear Array™ system on DNA extracted from oropharyngeal cancers.
The PGMY primers performed very well compared to the MY and GP primers, in the detection of HPV from genital warts. Identification of HPV subtypes in warts is not routinely undertaken, as the vast majority of warts have been shown to be caused by just two subtypes, HPV 6 and 11 [30, 31]. However, clinically detectable warts may mask the presence of HR-HPV infection, particularly in immunosuppressed individuals such as transplant patients or HIV+ patients. These patients commonly harbour multiple HPV subtype infections and may have increased predisposition to malignancy with HR-HPV. For example, HIV+ men who have sex with men (MSM) have been found to have a vastly increased rate of anal cancer [32]. Therefore, there is a requirement for increased screening and identification of HPV at non-cervical sites.
HPV detection rates in vulval biopsy samples were low for all three primer sets, probably due to low copy number infection in the samples, or the presence of subtypes not detected by these primer sets. Also, many samples were obtained during treatment of patients, decreasing HPV viral load (per cell) as patients respond (rev. [33]). In order to reduce the possibility of false negative results, we therefore employed an ultra-sensitive nested PCR (PGMY-GP5+/6+) according to the protocol established by Fuessel Haws et al. [25]. This confirmed that the vast majority of the negative results obtained following primary PCR were due to insufficient sensitivity. However, Fuessel Haws et al. also reported a significant problem with false positives, whereby a sequence from human genomic DNA was commonly amplified. We felt it was important to sequence the amplicons for confirmation that HPV was truly present in the sample. All but one sample (V2post) were HPV positive, thereby these data show that PGMY PCR may be useful as first-line PCR screening, but is not sufficiently sensitive to detect HPV in vulval or head and neck cancer samples. We suggest that nested PCR should be performed on clinical specimens if the initial PGMY PCR is negative, if only to confirm HPV negativity.
It is interesting to note that despite treatment and clinical resolution of the vulval lesions, we were able to detect the presence of HPV in all of the samples tested. The same HPV subtype was present in the post-treatment sample V4post. The continued presence of a HR-HPV subtype in the lesion means that the clinician and patient may need to continue monitoring of the site for clinical recurrence, suggesting the use of PCR detection of HPV to inform clinicians of the need for continued surveillance of the infected site(s).
When we applied our regime to oropharyngeal cancers, we found that the nested PCR system was the most sensitive method. The results are consistent with previous work showing that determination of HPV DNA viral loads from the oral cavity were better performed with a nested PCR system [
34
], though contrast with recent published work detecting HPV in oral rinses or swabs with the Linear Array™ system, type-specific PCR primers or consensus primers [
35
–
39
]. Interestingly, the only HPV positive RRP was taken from a 31 year old patient, the only sample to be taken within the usual age range for adult onset of the disease [
40
]. The mean ages of patients with HPV positive HNSCC was 60.6 years, compared to 69.2 years in patients with HPV-unrelated disease (n = 15, p = 0.1645, Mann Whitney U-test). This is consistent with data from a large US study of HPV prevalence in oral SCCs [
41
], indicating earlier onset of HPV-related malignancies of the oral cavity and highlighting pathological differences between HPV-related and HPV-unrelated disease. The Linear Array™, incorporating an amplification step, was more sensitive (determined sensitivity for each subtype is provided in the manufacturer's manual) than a pure PGMY primary screening. Our work suggests that even with direct testing of tumour material, the Linear Array™ system or "normal" PCR with consensus primers may not be sufficiently sensitive to detect HPV DNA present at low copy number. This may be important as HPV may be present as a single copy per cell in advanced pre-malignant or malignant lesions, associated with high-risk HPV integration. Figure
1
illustrates a suggested protocol for the detection of HPV in a range of clinical samples.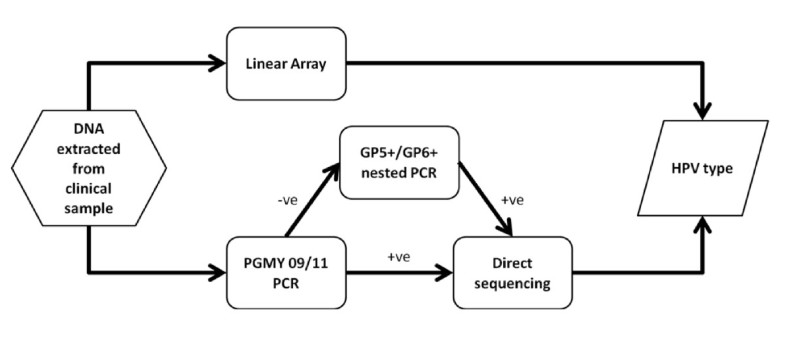 The performance and type-specific sensitivity of the MY, GP and PGMY PCR systems have been previously compared and reviewed. The GP and MY primer sets amplify a wide range of HPV types, with the MY system being shown to detect significantly more infections with multiple types [42]. Type-specific amplification differences are also evident between the two systems, probably reflecting the degenerate primers of the MY PCR and the consensus primers of the GP PCR. The PGMY system has been demonstrated to have a type-specific increase in amplification efficiency, when compared to the MY system from which it is derived [24]. These findings were confirmed in this study, PGMY detecting HPV in the greatest number of clinical samples (29/34), followed by MY (25/34) and GP (23/34) primer sets. The use of a nested PCR, using GP5+/GP6+ primers to further amplify PCR products generated by the PGMY09/11 primer set, has been demonstrated to be both highly sensitive and capable of detecting more HPV types per sample [25]. Our use of this method to detect HPV in oropharyngeal tumours improved detection from 0/15 to 10/15 samples, compared to a single round of PGMY PCR, demonstrating its potential value in the analysis of HNSCC samples.
A PCR approach to HPV detection in clinical samples is less expensive than the use of the Linear Array™ system. However, the latter enables detection of multiple HPVs (37 distinct types) whereas sequencing following PCR detection often reveals only a single subtype [23], dependent on both viral DNA load and primer binding affinity. Given that HPV-related HNSCC is clinically different from HPV-unrelated HNSCC, with improved survival and lower rates of disease recurrence [43], it is anticipated that the sensitive detection of HPV DNA in such lesions will inform both prognosis and treatment.
Conclusions
Our results suggest that the older and commonly used MY09/11 and GP5+/GP6+ primer sets may not be sufficient for primary HPV detection from non-cervical clinical samples, and that negative results with primary PGMY PCR screening should be considered for a GP5+/GP6+ nested PCR. However, the detection of HPV alone from clinical samples does not automatically lead to the conclusion that HPV is involved in the causation of the lesion. Detection of HPV may be due to HPV "bystanders" or contamination of the sample, due to the ubiquity of HPV on skin and mucosal surfaces in the human population. Evidence that HPV is involved in the pathogenesis of clinical disease requires the demonstration of transcriptionally active virus in lesional cells. In particular, the demonstration of E6 and E7 oncogenic activity is the "gold standard" by which HPV activity is measured, therefore future HPV detection methods should be supplemented by E6/E7 detection, for example using quantitative real-time PCR.
Abbreviations
HPV:

human papillomavirus
PCR:

polymerase chain reaction
MSM:

men who have sex with men
HIV:

human immunodeficiency virus
TBE:

Tris/Borate/EDTA
HR:

high risk
LR:

low risk
HG:

high grade
LG:

low grade.
Authors' Affiliations
(1)
Dept of Pathology, University of Cambridge, Cambridge, UK
(2)
Dept of GU/HIV Medicine, St. Mary's Hospital, London, UK
(3)
Department of Otorhinolaryngology, Bielefeld Academic Teaching Hospital, Bielefeld, Germany
Copyright
© Winder et al; licensee BioMed Central Ltd. 2009
This article is published under license to BioMed Central Ltd. This is an Open Access article distributed under the terms of the Creative Commons Attribution License (http://creativecommons.org/licenses/by/2.0), which permits unrestricted use, distribution, and reproduction in any medium, provided the original work is properly cited.