Correction to: Impact of new generation hormone-therapy on cognitive function in elderly patients treated for a metastatic prostate cancer: Cog-Pro trial protocol
Received: 9 November 2017
Accepted: 9 November 2017
Published: 30 January 2018
After publication of the original article [1] the authors found that Table 2 had been formatted incorrectly, meaning that some rows in the Table did not display the correct information.
An updated version of Table
2
is included with this Correction.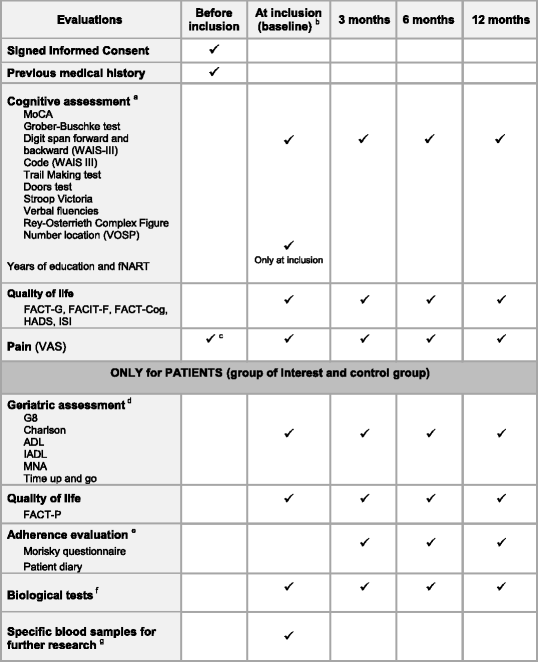 The original article has also been updated.
Open AccessThis article is distributed under the terms of the Creative Commons Attribution 4.0 International License (http://creativecommons.org/licenses/by/4.0/), which permits unrestricted use, distribution, and reproduction in any medium, provided you give appropriate credit to the original author(s) and the source, provide a link to the Creative Commons license, and indicate if changes were made. The Creative Commons Public Domain Dedication waiver (http://creativecommons.org/publicdomain/zero/1.0/) applies to the data made available in this article, unless otherwise stated.
(1)
INSERM, U1086 ANTICIPE, Normandie University, UNICAEN, 14076 Caen, France
(2)
Clinical Research Department, Centre François Baclesse, 14076 Caen, France
(3)
Cancer and Cognition Platform, Ligue Nationale Contre le Cancer, 14076 Caen, France
(4)
Medical Oncology Department, Centre François Baclesse, 14076 Caen, France
(5)
Laboratory of Neuronal and Neuroendocrine Differentiation and Communication, Normandie University, UNIROUEN, INSERM, DC2N, 76000 Rouen, France
(6)
UPO, Gustave Roussy, 94800 Villejuif, France
(7)
NeuroHIV Rehabilitation Unit, Bicêtre University Hospital, 94275 Le Kremlin Bicêtre, France
(8)
Normandie University, UNICAEN, EPHE Paris, INSERM, U1077, 14000 Caen, France
(9)
Medical Oncology Department, Centre Henri-Becquerel, 76000 Rouen, France
(10)
Digestive and Urology Oncology Unit, Rouen University Hospital, 76000 Rouen, France
(11)
Medical Oncology and Hematology Department, Hôpitaux Universitaires de Strasbourg, 67000 Strasbourg, France
(12)
Medical Oncology Department, Gustave Roussy, 94800 Villejuif, France
(13)
Medical Oncology Department, CHU de Caen, 14000 Caen, France
Lange M, Laviec H, Castel H, Heutte N, Leconte A, Léger I, Giffard B, Capel A, Dubois M, Clarisse B, Coquan E, Di Fiore F, Gouérant S, Bartélémy P, Pierard L, Karim F, Joly F. Impact of new generation hormone-therapy on cognitive function in elderly patients treated for a metastatic prostate cancer: Cog-Pro trial protocol. BMC Cancer. 2017;17:549. https://doi.org/10.1186/s12885-017-3534-8.View ArticlePubMedPubMed CentralGoogle Scholar